East Anglian Fiction Prize
I was honoured and delighted when my fifth novel, NINEPINS, won the East Anglian Book Awards prize for fiction in November 2012.
My novel was one of three books with an East Anglian connection to be shortlisted in the fiction category, which incorporates novels and short stories. The prize was presented by poet and thriller writer Sophie Hannah at an award ceremony held in Norwich's Assembly House.
The judge of the fiction category was BJ Epstein, lecturer in literature and translation at the University of East Anglia. Here is what she said about the book:
"In Ninepins, Rosy Thornton explores mother-daughter relationships and womanhood in a lyrical style, with touches of suspense and romance to add to the atmosphere. In this novel, the fenland of Cambridgeshire is almost a character of its own. The combination of the story and the setting works well to create a carefully observed and poetically written meditation on the meaning of family."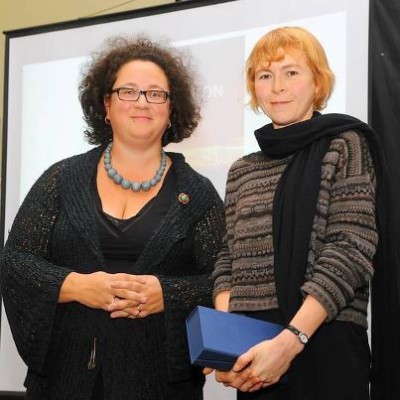 As a fan of Sophie Hannah's very witty poetry, I was starstruck at receiving my award from her. And having grown up on literature with an East Anglian flavour, from Akenfield to The Nine Tailors, it was a dream come true to be recognised in this way.