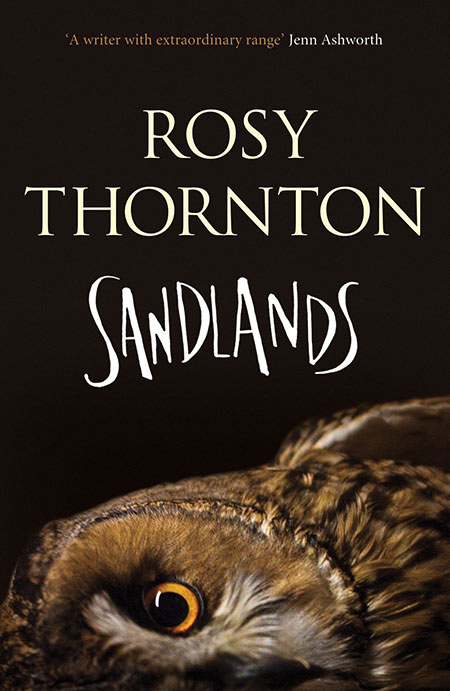 Sandlands
Paperback, July 2016
The sixteen short stories in this collection are all set in and around the village of Blaxhall in coastal Suffolk. From the white doe appearing through the dark wood to the blue-winged butterflies rising as a cloud in reminder of happier times, the creatures of the Suffolk landscape flit and flicker through the tales.
The enigmatic Mr Napier is feeding a fox rescued from the floods; an owl guards a cache of long-lost letters; a nightingale's song echoes the sound of a loved voice; wheeling rooks above the patchwork countryside retrace the arc of a wartime Spitfire; in a Martello tower on a deserted shore Dr Whybrow listens to ghostly whispers.
Through the landscape and its wildlife, through human and folk memory, the past is linked to the present and generations of lives are intertwined.
"a writer with extraordinary range"
– Jenn Ashworth
"Descriptive prose is Thornton's strength, her wordage as apt as the characters… portrayed, effective and poignant. There are natural twitches in narrative flow, a distinctive method of keeping the reader's mind engaged and making a short story appear less diminutive… This is a book to pick up, to read a story and 're-boot' the brain… at the back of her storytelling there's a sense of steel, of purpose…" – Kent Life

"These stories were great. The author has managed to write them in all different voices and at different periods but running through all 16 diverse tales are the common threads of setting, wildlife and locations… I can highly recommend this book" – Carolyn Fraser, New Books

"I love this book… The stories have a strong sense of place and this part of East Anglia is beautiful, remote and memorable as are Rosy's tales… I had to make myself stop between each story when my impulse was to gulp them down, so keen was I to carry on reading. The various elements of the book – characters, setting, language, and even the names and title – come together so well. Do read this – even if like me you don't like short stories. I am happy to be a convert!" – Dorothy Anderson, New Books

"Rosy's tales are gently haunting… They leave you thinking for days afterwards." – My Bucketlist Book, Dorothy Swain, East Anglian Daily Times

 

"Thornton is a writer with an extraordinary range – her stories capture the wry, gentle (and never cruel) humour of local village politics as well as the chilly suspense and terror of past hatreds bubbling up in the present. It's rare to encounter a writer who is able to, with control, confidence and a clear, fluid prose style, both amuse and scare the reader in one collection. One of her particular strengths is character – none of Thornton's characters are what we expect, and we're gently, even within the small, perfectly wrought confines of the short story (a form she has made her own) encouraged to look underneath bluster and stereotype to the unexpected, strange and entirely human complexities beneath. Despite this range the collection works together as a whole and is characterised by an intimate knowledge, big-hearted curiosity and affection about place and landscape – the details of the natural world, local history, tradition and culture are engagingly evoked… Home becomes unhomely, unfamiliar and frightening, and then the gentleness of a long-known landscape and people is whisked back into view. This sleight of hand is executed with a rare control. …a unique and important response to the current vogue in landscape and place writing." – Jenn Ashworth

"Rosy Thornton's fiction is evocative and sure-footed. She has a strong sense of story… (T)he voices are fully achieved, and successfully woven together. Larger themes are touched on deftly, without overwhelming the pleasures of the storytelling, and add up to a very satisfying whole." – Emma Darwin

"With the Suffolk countryside and its inhabitants running through every gorgeous tale, Rosy Thornton has managed to produce a beautiful, sublime and strong range of short stories, filled with well-drawn and utterly believable characters, leaving the reader… satisfied… and fulfilled. This collection is… a tour de force… a sheer joy to read." – J. A. Corrigan 

"Loved 'Sandlands' – evocative of the area and the stories were so satisfyingly varied."– Judith Lennox

 

"The writing is excellent, especially when she is writing about the natural world… Several of the stories have an air of ghostliness about them, usually mild and not the main focus, though there is one that I feel counts as a 'proper' ghost story, and beautifully creepy it is too! … But there's also humour in the collection, which prevents the nostalgia from becoming overly melancholic." – FictionFan's Book Reviews

"a devastating collection of short stories… Thornton creates micro-worlds in which her characters are haunted or lost. These characters dwell in an ethereal world in which nature itself becomes a character of its own… Each story is a magical world in which anything is possible… These stories are complex puzzles with dynamic characters who are developed in a short span by Thornton, but who will leave an indelible impression on the reader. The setting is steeped in myth and historical legends of witches and witch hunters, WWII POWs, pagan religions carried on in the iconography of Christian churches, and folklore. In 'Sandlands' Thornton has created an absorbing atmosphere that envelops readers like the fog, providing them just enough to discern a path forward but not enough to see the end before it arrives." – Savvy Verse & Wit

"a contemporary collection of short stories that reads like a modern classic. The stories cover all sorts of subjects from the trivial to the sublime, and they're all subtly linked together by the landscape… It's good to see that new writers are still putting out work like this, which has a lot if fun with language while simultaneously making the reader think about what they're actually reading." – Social Bookshelves

"Sandlands is a gorgeous collection of short stories, rooted in the Suffolk countryside, among its people, villages and wildlife. These stories and the images they evoke will live and linger long in my mind… Strong characters brought to life, within a stunning English landscape, the natural world, folklore, and the past and present weave together seamlessly… I am delighted to have discovered such a fabulous short story writer" – Heavenali

"I love Thornton's writing which is rich in detail, bringing the landscape to life. I have always imagined it to be difficult in a short story to develop the characters sufficiently but they are all wonderfully portrayed… I feel it is a book that can be returned to as it is one where you may see or discover something different the second time around…. A lovely collection of stories, beautifully told." – The Owl on the Bookshelf

"Rosy Thornton's impressive new volume of stories, Sandlands, share many common elements. Place is the most obvious… There are also common themes – nature, remembrance, the past reaching into the present. I enjoyed the literary echoes too… I enjoyed this collection of stories very much." – I Prefer Reading

"it takes a very special skill to write something small yet complete in itself; the essence of a life or a series of events. The stories in Sandlands are linked by their setting: the Suffolk countryside… You're aware that generations have lived here, in a beautiful yet difficult terrain with its sand, its mud and its crumbling coastline. The stories are extremely well written and the descriptions of the countryside and its wildlife… very fine and obviously thoroughly researched. What I liked particularly was the feeling of history: an ancient landscape… the past and present coexisting. There's a hint of the supernatural, too, which somehow seems appropriate to the place… I can't pick a favourite story because I liked them all. I admire Rosy Thornton's writing very much." – Life Must Be Filled Up 

"Sandlands is a collection of sixteen short stories, all linked to the village of Blaxhall on the Suffolk coast… Blaxhall, and indeed Suffolk are brought to life by the author; her knowledge of the landscape and the people is obvious and her details are wonderfully vivid. Ancient history with scents of magic and ghostly goings-on are woven into each story… Sandlands is an apt title for this elegant collection of stories. Just as the sand slips around and is fragile and delicate, these stories slip from era to era and place to place… Beautiful, gentle, mystical; Sandlands is a collection of stories that capture the heart." – Random Things Through My Letterbox

"I very rarely read and review short stories… but… when I finally put it down, having read every story back-to-back, quite breathless at the extraordinary beauty and originality of the story telling, tearful at the final story, I wondered quite what I'd been frightened of. This collection was absolute perfection… I loved everything about this collection – descriptions that brought the Suffolk setting to life, vivid imagery, characters that continue to live in my memory, the perfect completeness of every one of the stories, the wonderful blurring of past and present, the recurring themes, the acute observation, the humour, the touches of magic, the poignancy. But when a collection – and the individual stories within it – moves you as deeply as this did, you know you've come across something really rather special." – Being Anne

"a beautiful collection of short stories that held me spellbound from start to finish… The individual stories are varied, some looking back to the past, some are sad leaving me with tears in my eyes, and some have a supernatural element. I loved all of them… It's impossible for me to do justice to these stories. If you like strong, atmospheric stories, stories that bring to life the world of the past, tying them to the present, stories of family life, of the natural world, of folklore and the mystery and wonder of it all then you'll love this book as much as I did." – Books Please

"Sandlands is a delightful collection and, like all the best short story collections, it has unifying themes running through it. The most obvious is the setting – the stories highlight various locations around Suffolk… it is the way that the setting is used in the stories, and the collection as a whole, that really brings them to life… Each story contains little jewels in its own right as well as forming part of a cohesive collection… What makes this collection stand out for me is the quality of the writing. It is full of emotion and sensitivity and gives the stories a sense of delicate poise that make them a joy to read. The characters, the places and the episodes are all exquisitely drawn and leave a sense of having really stepped into someone's life for a brief moment." – Fiction Is Stranger Than Fact

"Wow. I just loved this collection of short stories. Reading Sandlands was like dipping into an exotic box of chocolates and realising each one is different but equally satisfying with a unifying theme. I wasn't expecting the wonderful poetic quality of the writing. It put me in mind of Seamus Heaney at his very best. There's a preternatural undercurrent that weaves its spell throughout so that I found the writing mesmerising. I felt immersed in the experience of reading so that it became an almost physical pleasure, like stroking smooth silk or tasting perfectly chilled champagne. The presentation of Suffolk as a county is outstanding…  There are many voices behind the narratives and every one is completely convincing. I loved the way many stories began as if the reader had been in conversation with the narrator… But what I found most enthralling was the ghostly undercurrent of the past that echoes its way through so much of the text. Rosy Thornton links a human, county and national heritage to the present so convincingly that at times a memory, an echo, the present and the past knit together almost hypnotically… I'm sure I've missed so much from only having read these stories once so far. The references to mythology and literature that help create such a rich tapestry of narrative deserve several readings and Sandlands is a book I won't be parted from. It is beautiful, intelligent and spellbinding." – Linda's Book Bag

"Rosy Thornton tells ordinary stories tinged with more than a hint of the odd and the unusual. In this magical collection of sixteen tales, she effortlessly weaves the present with the past, creating characters who leap from the page and lay their emotions on us like old friends… We're right there in the scenery as if watching her stories unfold before our eyes… Her tales are beautifully crafted, moving the reader from laughter to tears in an instant and I found myself a little overawed at her ability to create such flawless prose. Imagine writing that mixes Susan Hill and Gavin Maxwell with a hint of Edgar Allen Poe and you'll be on the right track. This is an outstanding collection of stories from a woman who is clearly a master of the form. If Rosy Thornton doesn't win some major literary prize very soon, I'll be very surprised." – Colin Garrow

"Rosy Thornton is a highly regarded and experienced novelist. With her latest offering, Sandlands, she showcases her mastery of the short form. For Sandlands is an astonishing collection of short stories exploring our intimate connection with our past and the landscape, its wildlife and seasons. The blurb describes these sixteen tales as delicate and magical, and while I wholeheartedly agree, I'd add that they are poignant, unsettling and often extremely funny… A gem of a book with story hooks as strong as the claws of the owl on the arresting front cover. Brilliant." – Laura Wilkinson

"the quality of writing is exceptionally fine… Every story is crafted to perfection. I found myself going back to re-read each one, wanting to extract every last drop of imagery, allusion and meaning, to peel back its layers. Equally, I found I couldn't read them one after another at a stretch – I needed to stay in the concentrated moment of the current story, and not have the next one break into it too soon… The greatest delight in reading Sandlands was the surprise over every page, the constant refreshment of the scene, the introduction of a new voice… I found so many landscapes, characters and details in these stories that made a direct way into my heart… This is an extraordinary collection of short stories: each linked, each different and each un-put-downable. You can't quite tell where they're going until the moment before they get there – and the denouement is always just exactly right." – Vulpes Libris

"The problem I sometimes have with short stories is that they tend to lack… plot development and depth of character… I often find them unsatisfying and…well, too short. Sandlands is not like that. The stories are the perfect length – not too long and not too short – and each one feels complete… I found something to enjoy and admire in every one of them." – She Reads Novels

"She's so deft…, her touch so light, that what could be sentimental is instead achingly tender… Thornton does a beautiful job of elegizing the dying near-past… I've never been to Suffolk, but even I can recognize that these stories are suffused with a deep love for it: its sandy lanes, its coastal flats, and above all, its people. Rosy Thornton is probably best known for her romantic novels, but going by this collection, she's a wonderful and thoughtful literary fiction writer too… If… you… want a beautiful collection of attention-holding stories, don't miss Sandlands." – Elle Thinks

"Rosy Thornton's short stories managed to make me want to read more, lots more, about nearly each and every character I encountered… If the stories were paintings, I would say the author managed to depict each character accurately with a few brush strokes. I could picture them all, even hear their voices – something that sometimes does not even happen to me for the main cast of a full-length novel… Had I to choose a favourite out of this collection of short stories…, I wouldn't know which one. They all "need" each other, I think, to give a complete picture, even though each story can very well stand alone… Reading 'Sandlands' was 99 % pleasure, and 1 % disappointment, when each story ended far too soon for my liking!"– From My Mental Library

"Thornton's new book of (almost imperceptibly interlinked) short stories is so good and enjoyable in so many ways that it would be a great shame if it weren't brought to the attention of as many people as possible… The stories in Sandlands are all set in Suffolk. It's not a county I know at all, but I feel as if I could find my way around this particular landscape blindfold… In these stories, we meet women, men, priests, academics, eccentrics, lovers and children. It's a very literary book. If you've read M.R. James, or Barbara Pym or the myths and legends of this country, you'll get additional pleasure from the collection. But it's a book that's bound to give pleasure to very many people. Entertaining, illuminating, chilling, sad, and often funny too, the whole collection hangs together seamlessly as a portrait of a fascinating part of the country. It deserves to be a huge success." – Adèle Geras, Shiny New Books

"Rosy's wonderful writing draws you into each story with her poetic descriptions of the land and her sometimes amusing and sometimes poignant observations of people and places, of nature and nurture and the performing of simple everyday tasks… I have enjoyed reading these stories very much and I'm sure I will return to them later this year to read them again…" – Corners of My Mind

"Each story's end was like closing the back cover of a full novel. I had that satisfaction that comes from a good read over and over again in reading this book…Ms. Thornton brings the Suffolk countryside to life in each and every story… It's a highly recommend from this convert to the short story format." – Bookishly Attentive

"Many of Rosy Thornton's stories… are an interesting hybrid, where a lot is about a sense of place… but the twist in the tail becomes more of a connection in the tail, where something occurring in that distinctive landscape suddenly and intimately ties into an aspect of the protagonist's life. This is… reminiscent of the importance of location in the work of one of my favourite authors, Alan Garner. … All in all a wonderful collection that will play with your emotions, deliver over and over, and often make you pause at the end of the story to savour its impact." – Brian Clegg

"What can I say about this book! I loved it; devoured it in one sitting… Rosy Thornton has an empathetic writing style. Her portrayal of all the diverse characters shows an instinctive knowledge of human emotions and reactions to various situations. Each anecdote is an excellent observation of people, fascinating in so many different ways, and each is satisfyingly complete… But what struck me most as I savoured these tales was the beautiful poetic prose, the rhythmic flow of the narrative, the extensive and unique use of words… Wonderful stuff! You just have to read these stories. I thoroughly recommend Sandlands." – Judith Barrow

"Thornton's stories are quiet, delicate and full of wonder. They slowly weave their way into your heart, where they remain.  They are poignant, poetic, lush with the landscape, wildlife and history of Blaxhall and beautifully written but, above all, they are perfect. By perfect I mean perfectly composed—each word earns its place, and then some. Each character, each setting, each paragraph hearkens back to another, lending a satisfying, almost musical, quality of resonance within the stories and, indeed, within the collection.

As I read, I found myself turning each story over, wondering what had really happened. This wasn't because the writing was unclear at any point but more a result of the writer wanting the reader to make his or her own mind up as to what had occurred. Thornton's stories are multi-layered and nuanced in such a way that they lend themselves to varying interpretations, a feature I very much enjoyed. I'm looking forward to reading more of Thornton's work…" – Kendra Olson

"Layers of history, myth and superstition provide rich loam for novelist Rosy Thornton's first collection of short stories, all set in Suffolk.  Her sandy landscape draws both eye and ear, as she weaves her tales of fatal passion, hauntings and nostalgic return… These are delightful, delicate, celebratory stories, indicative of a strong and unusual narrative imagination in the tradition of Jane Gardam, Rose Tremain and Barry Unsworth.  This author's novels should be better known." – Book Oxygen

"You know that feeling when you reach out and open a storybook, that indefinable something which tells you that this is going to be something special, well, that happened when I opened Sandlands. … It… drew me in from the beginning… There's a lovely lyrical quality to each of the stories and the author captures time and place so beautifully that it really is difficult to single out one story above another as each are perfectly complete… Sandlands is, in that age old tradition of storytelling, a tantalising glimpse of times past which irrevocably connect with the future. It is a collection of short stories which could be woven into the fabric of our being, stories which deserve to settle like the folktales and legends of old, and which I am sure, will delight and enthral readers." – Jaffa Reads Too

"This sublime collection of short stories arrived at the most perfect of moments… There are so many things to say about this book. Each time I sat down with my cup of tea and began another story was like stepping onto a country lane. Fields and forest feature prominently as a backdrop to tales that range from mythical to biblical and downright spooky…  One of the most admirable aspects of a short story (in the hands of a good writer) is the ability to stir emotion in so short a time frame… Rosy, you are a talented writer, and while you really didn't need my humble opinion in promoting this wonderful collection, I am so very glad your book found its way to me. Sneaking an hour to read, here and there… was like escaping to a tranquil place – even if you did bring me to tears several times." – Cosy Books

"Some of the stories are funny, some are very sad, and some are nostalgically heart-wrenching… Sandlands is a fine collection of highly atmospheric stories that reflect on how closely the modern world is still tied to the generations that preceded it. It is about family and reminds that we are who we are because of those who came before us and prepared the way. Readers with a fondness for well-constructed, more literary short stories are going to enjoy and appreciate Rosy Thornton's Sandlands." – Book Chase

"A charming collection of short stories… a very enjoyable and varied read… Rosy Thornton paints a clear picture of the characters and landscape… The stories are very nicely woven and have a wonderful flow… This is a book for you if you like folklore, linked short stories, believable characters, and enjoy excellent writing. Recommended!" – My Train of Thoughts On…

"This book… was an absolute treat to read. Ms Thornton's writing is beautiful.  Evocative, intelligent, mournful, intricately researched and humorous at times, the sort of prose that doesn't need events or dialogue, and that's coming from someone who prefers books with lots of both. Never mind complaints about too much descriptive detail in books… I loved every word." – Terry Tyler Book Reviews

"The setting is so detailed that it really began to feel like another character throughout the story… It really began to feel like a place I had been. It was really difficult for me to pick out my favorite story because of how much I enjoyed all of the details! …I am always on the lookout for books with a lot of atmosphere and this book has it in spades. I really enjoyed this collection a lot and recommend it for those who seek to be truly enveloped by a book!" – A Bookish Affair

"The collection of short stories was so descriptive… that it brought England very close to me… The… stories are emotional. They are also concise. A very difficult balance to maintain and one that is so for all the stories. There is… excellent characterization and the whole collection is brought totally to life and one felt one was actually living in the Suffolk countryside. I loved the collection."  – Mystica

"Each story is perfectly constructed… Despite each story being a separate tale you get a real sense of place and they work beautifully together while simultaneously having a uniqueness. Thornton's prose is stunning. There is a breadth and beauty throughout the pages that transports you to the mudflats and marshes of Suffolk, combined with a tone that is haunting and evocative that has a deep effect on you… With each tale I was left feeling emotional and moved… I adored 'Sandlands' and it is book I will return to again and again. It is enchanting, alluring, evocative and beautifully written. Highly recommended." – Bloomin' Brilliant Books

"Sandlands is a gentle and magical collection of sixteen stories that follow the creatures and people of the Suffolk landscape…. I loved them all… I found myself absolutely swept away and I even found it quite hard to put down this collection of tales; full of life, death, nature, animals, and all with a delightful touch of magical realism…  I thought Sandlands was an enchanting collection… I would love to read more by this author. Great read." – The Bookworm Chronicles

"I was completely charmed by the entire narrative and especially its two main protagonists. It's a beautiful little tale that feels starkly poignant… The richness and beauty of Rosy Thornton's story-telling was an additional bonus. She describes the British landscape so eloquently you can almost visualise the area she is talking about and smell those wonderful, natural scents. This story was particularly beautiful as it felt so timely…" – Bibliobeth (review of 'High House')