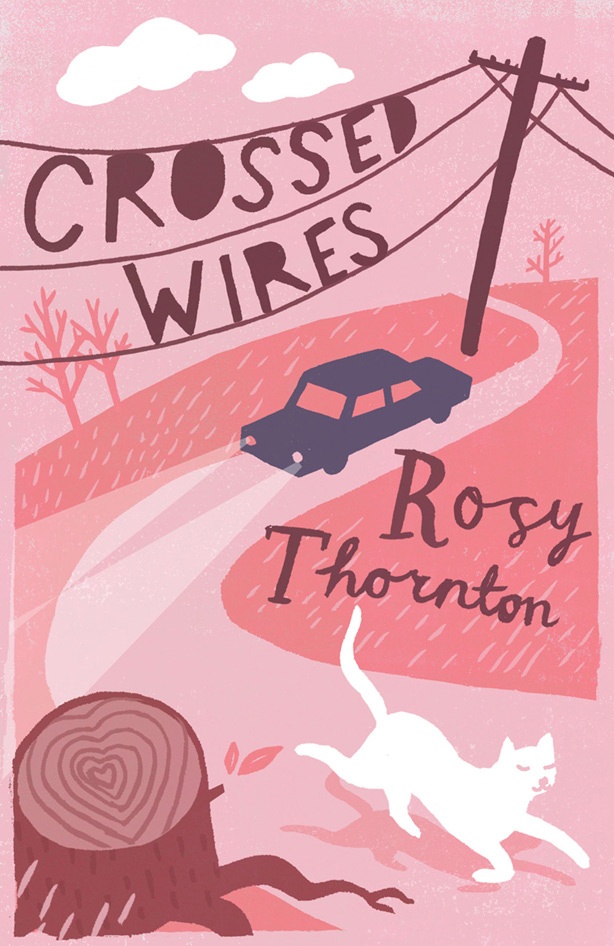 Crossed Wires
Hardback December 2008; paperback April 2009.
This is the story of Peter, a Cambridge geography don who crashes his car into a tree stump when swerving to avoid a cat, and Mina, the girl at the Sheffield call centre who deals with his insurance claim. It tracks their parallel lives, as well those of their families – because both Peter and Mina are single parents.
An old-fashioned fairy tale of love across the class divide, it is also a book about the small joys and tribulations of parenthood; about one-ness and two-ness; about symmetry and coincidence; about the things which separate us and the things which bring us together. 
It is a story, in fact, of the accidents of geography.
"Crossed Wires by Rosy Thornton is … rooted in the everyday. Thornton … is skilled at drawing out the poignancy of ordinary life."
– The Guardian
"Crossed Wires by Rosy Thornton is … rooted in the everyday. Thornton … is skilled at drawing out the poignancy of ordinary life." – The Guardian

"A super-sweet tale." – OK!

"This is more than just a bit of light relief in the form of chick-lit; it is a heart-warming fairytale of real life with a happy ever after" – Varsity

"Heartwarming." – Kate Long

"Crossed Wires by Rosy Thornton is a delight. The way the two plot strands are woven together is most skilful. We know they are going to end up together, but how they get there is both highly satisfying and also very engagingly written. Thornton's also very good at depicting children and teenagers: not a skill that's universal among writers." – Adèle Geras

"A great read." – Judith Lennox

"Heartwarming modern rom-com with a nice edge to it." – Scott Pack

"The leading characters are revealed so gradually and with so much care that it's almost exactly like getting to know people in real life. Such painstaking attention to detail and psychological accuracy could have resulted in a worthy and inspiring plod, but Rosy Thornton writes with a light hand, a lighter heart and a sure grasp of what makes people tick.
Creating two fully-rounded lead characters is impressive enough – but here they're backed up by an equally well-drawn supporting cast. Their children – Kim, Cassie and Sal – are wonderfully well observed; Mina's good-hearted but breathtakingly blunt mother is a brilliant creation, and the far-from-straightforward gay couple who so often end up as babysitters really deserve a book all of their own.
Crossed Wires is about as far removed from bog-standard romantic fiction as Edith Wharton is from Barbara Cartland. It is, simply, a beautifully told love story – a modern fairy tale even – but one with a heart, a brain and both feet planted very firmly on the ground." – Vulpes Libris

"This book gradually reels you in until you become hooked. I couldn't wait to catch up with them each evening to see how they had got on. I really enjoyed it. It's a book you can genuinely call lovely" – Trashionista

"As always with Rosy Thornton you get characters you're really going to get to know. They come off the page fully formed and it's difficult to think that they're not people you've met. Even relatively minor characters stay in your mind long after you've finished the book." – The Bookbag

"Crossed Wires is such a wonderful story that I defy anyone to put the book down once they read the very first page. Rosy Thornton imbues her story with characters so real and believable that they leap off the pages and linger in the reader's mind long after the last page is turned.
A wonderfully observed, funny, poignant and tender love story of family, friendship, relationships, romance and the ties that bind, Crossed Wires is a hugely satisfying contemporary novel from a writer who continues to write smart, intelligent, clever and wholly spellbinding stories women everywhere will relate to and adore!" – Single Titles

"Don't be fooled by it's soft pink cover, this story has real heart and depth. The story has a 'will they or won't they' feeling to it that makes it a real page turner, and the ending was just right, intriguing and left me wanting more, but satisfied all at the same time. Crossed Wires is an emotional, warm, gem of a book with real heart about real people. It gave me that same feeling I get when I a hear a fantastic new song, a treasure just for me where I fall head over heels in love only to then feel somehow bereft on realising that other people love it too. Noo… it's all mine." – Alex Brown Books

"Crossed Wires is a fun heart-warming tale of family, friendship and love." – Fallen Angel Reviews

"There are books you read that leave you with a smile on your face for quite some time after you turn the last page and close the cover. Still smiling, I can say that Crossed Wires, by Rosy Thornton, is one of those books… It's a wonderful story, well conceived, well written and beautifully executed." –Bookishly Attentive

"Rosy Thornton's new novel, Crossed Wires, is about people finding each other in all sorts of ways.
The novel stands as a delightful love story, but also a story about families and friendships and the way they strengthen our lives. Thornton masterfully draws the strings of these relationships together in a tight circle of friendship and love.
Thornton has a way of creating characters with whom the reader instantly cares for and feels familiar. Crossed Wires is a novel that gives one faith in the power of relationships, and the special attractions that draw us to one another, no matter what our age or stage of life." – Bookstack

"There's a great sense of the value of community in Rosy Thornton's novels. The communities in this novel may be more fragmented, and more fraught, but loyalty, sympathy and compassion still abound. It's a world where people strive to do their best for one another, despite their limitations. I read it in about two big gulps, and felt very comforted." – Tales from the Reading Room

"This is a lovely, gentle romance. The details of family life are beautifully observed, with lots of humour and just a hint of tragedy. A perfect Sunday afternoon read." – Readers Corner

"The book pulled me in, and it painted a delightful picture of a place quite foreign to me – and yet, it felt so very familiar. The subtitle says it better than I ever could. Sometimes love is more than an accident of geography" – Review Planet

"Ms. Thornton writes romances in the same way that Jane Austen, Barbara Pym, or Edith Wharton wrote romance – it is as much social commentary and psychological portraiture as it is the story of boy meets girl.
In this book, Ms. Thornton has created endearing characters with real problems, people you can really root for. That is the driving force of the narrative, what keeps me turning the pages.
The characters here are beautifully drawn. Peter and Mina are both outsiders, in a way; Peter as a widower raising two daughters, and Mina as a single mother who also has to referee the relationship between her prickly mother and her wayward sister. And as outsiders, they are happier when they find each other. The minor characters are really well done, too. I love Peter's friends, the gay neighbor couple, who babysit and offer comfort when needed, and I think Mina's mother is wonderfully brassy and difficult.
I found this book, with its endearing and colorful characters, and its attention to detail, very emotionally satisfying. I'll be happy to enter Rosy Thornton's world again when she writes another book." – Shelf Life

"Reading Rosy Thornton's Crossed Wires was a little like finding a hundred-dollar bill buried in the ground. I really, really loved this book – the push-and-pull of wondering how the story will play out; if Mina and Peter will ever stand before one another, face-to-face; the realistic, heart-wrenching descriptions of parenthood, friendship and sisterhood. I really related to Mina and Sal, and felt very close to them . . . and I adored the twins and their frantic, close relationship. Thornton deftly draws each character and fashions them into people we feel like we really know, or that we could sit beside in a coffee shop.
A really great, fun and moving novel – and not just light and fluffy fare. After finishing it, I feel like I've really been on an emotional journey with Mina and Peter . . . and I love where Thornton leaves us. Great read!" – Write Meg

"A sweet, gentle, tender book" – Reading is My Superpower

"In this novel, Rosy Thornton has created a cast of characters you'll love so much that you won't want to leave them behind when you finish the book. Call centre worker Mina, struggling to bring up her daughter and sister, and academic Peter, struggling to recover from a devastating incident in his life, will have you gripped from the first page. But what made this novel outstanding for me was the way in which the supporting cast was drawn.
There are some exquisite characters in this story. The quirky cast inhabit a world that has been skilfully and beautifully drawn. Throughout the story, descriptive details are lushly filled in, giving the story a background that springs off the page.
Rosy Thornton covers a number of important themes in this novel with a sure touch. Loss, and how people deal with it, is high on the list, but also we have the highs and lows of parenting, the power of coincidence, the pressure to conform and live life by the expectations of others, and the fear and inevitability of change.
I found this novel compelling and emotionally satisfying. The story is intellectually satisfying in a way that reminded me of Kate Atkinson. It is a love story – but it is so much more than that. It is also a story that makes you think."- Bookersatz

"Rosy Thornton's Crossed Wires is a delightful novel about parenting, friendship, and love. Thornton's writing reminds me of Alexander McCall Smith, although (and don't hate me if you're a total Smith fan) I think Ms. Thornton's characters are more authentic, less caricature.
This novel is much deeper than a typical romance. Peter and Mina are both dealing with the uncertainties of raising preteen daughters. The relationship between parent and child is written with tenderness and humor. Highly recommended." – Books and Movies

"Peter and Mina's is … a deeply felt, well-imagined, truthful relationship. Thornton has created two characters who are as human as characters can be. They are comfortable and easy and the sorts of people I'd love as friends. And once I realized that this was not a novel in a rush to have the characters meet and become a couple, I abandoned myself to the slow and pleasing pace.
Crossed Wires is original and charming, well-written and captivating, deeply felt and sincere. The echoes of the numbers one and two, both in Peter and Mina's single-parenthood but also in the people of Mina's daughter and Peter's twins, resonate and challenge the reader to consider notions paired and alone. I thoroughly enjoyed all of it and will definitely be searching out more of Ms. Thornton's work in hopes of capturing the magic she's offered in this novel." – BookNAround

"We absolutely loved this gentle heart warming story. If you are looking to withdraw from the hurly burly and stress of a busy week, this is a perfect solution. Rosy Thornton is a sublime storyteller, she takes care to create utterly believable characters and like strawberries and cream, this delicious book is a delightful weekend relaxing treat." – Hot Brands, Cool Places

"Crossed Wires is a smart, incredibly well-written story about two people lost in the circumstances of their lives.
I loved the very English-ness of this book. There was a great feel for location here, from the different class struggles and social norms to the regular taking of tea and the daily particularities of life in an English village.
I really enjoyed this book, most particularly because of the excellent writing. I felt the mood was so carefully and preciously created, and the characters truly breathed and occupied physical space. Sometimes in life it's the smallest shifts we make in our perspective – and in our hearts – that make the greatest difference. I think that's certainly one of the beautiful truths of this novel." – Book:Thirty

"5 stars – unique, funny, enjoyable – the perfect way to while away a Sunday afternoon. Once I picked up this unique and funny novel I couldn't put it down. The lighthearted tale of two strangers looking for love sums up the trials and tribulations of single parenthood and shows how easy it is to assume you know what someone is thinking when really you don't have a clue!
This novel is heartwarming and funny at the same time – I found myself sighing one minute and laughing out loud the next.
If you're looking for a great novel to escape in, with believable and likeable characters, a bit of romance and a not so predictable ending then you should definitely read Crossed Wires by Rosy Thornton." – Blue Archipelago

"Thornton's writing is so cozy – the written equivalent of a roaring fire and the perfect pot of tea. She's speaks directly to those of us who grew up and/or raised children during Harry Potter. She makes Dr. Seuss references. She speaks directly to so many experiences – male couples who have lived together their whole lives but never clarified their relationship; parenting twins; scraping by on just enough money; reading in a university library. Your feeling is that she must have snuck into your brain and shared your experiences, so keen are her portrayals." – In Search of Giants

"I really did enjoy it. All the characters in the book are entertaining and very realistic. They are all warm and funny and each have their own oddities, that you cannot help but love. Rosy Thornton has a real eye for characters and I dare you not to find a little of people you already know within them." – Serendipity
"A good book to curl up with on a Sunday afternoon, with a cup of tea and the cat on your lap." – A Bookworm's World

"This is a sweet and gently funny story, with realistic and honest characters who win over the reader. I really loved this heartwarming book and am now a big fan of Rosy Thornton. If you want a book that will just make you feel good, you won't go wrong with Crossed Wires." – The Tome Traveller's Weblog

"This book reeled me in to the characters' circumstances and became a true page turner… I've come away feeling like I've just been involved with other families who I now can't ring up to find out how they're doing! This book was a grounded example of how day to day problems, feelings and happenstance are also realistic adventures." – Average Jane's Reviews

"Crossed Wires is what I would call a gentle book. It's character-driven instead of sensational, think of an indie character based film as opposed to an action blockbuster. The characters are utterly believable and completely sympathetic… It's a masterful piece of writing, warm and hopeful." – About Books

"Crossed Wires by Rosy Thornton is a charming love story. I enjoyed reading about not only Mina and Peter's relationship, but the lives the supporting characters lead." – Chick Lit Plus

"The writing is charming, the characters are ones you want to move in next door. It's Britishness at its finest, where you want to grab a cup of tea and a comfy blanket and curl up with a good book. And it's just the book to do that with." – Book Nut

"This book is NOT a mushy romance. There is no pathetic clichéd (Mills & Boon) dashing romance content in this whatsoever. This book is much more real… The author has managed to create a connection that's convincing and endearing… The only thing about the book that I would have preferred was if it were longer…" – Goddess of Blah

"I can honestly say that I really, really enjoyed this… It goes to show how good a writer Rosy Thornton is, a woman that can take every day, mundane stuff and turn it into a story. My only gripe was that I wanted it to last a little longer… An absolute pleasure to read." – Best Books To Read

"It is so much deeper than a stereotypical romance novel… there are so many other issues addressed in the midst of a gentle romance… This modern-day romance is a delightful and realistic ride." – Rebecca Reads

"an intelligent and original story… The characters are unique, but their hopes and struggles are universal. Crossed Wires is a modern day fairytale of accidental circumstances that lead to the unexpected. The pacing of this novel is excellent… It is a very enjoyable read." – The Chick Lit Bee