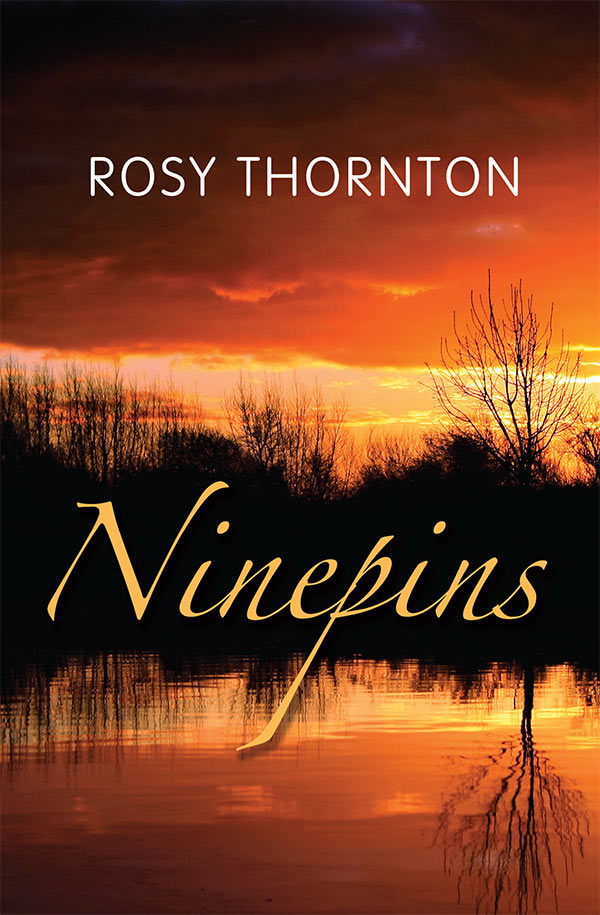 Ninepins
Paperback, April 2012
Ninepins is an isolated former tollhouse, standing high on a bank beside a waterway in the Cambridgeshire fens. There, since her divorce, Laura lives alone with her 12-year-old daughter, Beth. Below the bank stands the old pumphouse – a former fen drainage station – which is rented to a series of student lodgers. But this year's lodger is different: Willow is seventeen, and in local authority care. Battling down her reservations, Laura takes her on.
Do Willow's strangenesses and her mysterious and troubled past make her a threat to Laura and, especially, to Beth? What were the circumstances surrounding the act of arson which led to Willow being taken into care?
Set against the brooding landscape of the fens, Ninepins explores the perils and rewards of bringing a stranger into your home. It traces a mother's fears for her daughter as she struggles to decide whether Willow is vulnerable or dangerous – or perhaps a bit of both.
"Just finished 'Ninepins' by Rosy Thornton really liked it. Great landscapes. Can see it as a tense ITV thriller."
– Kate Long
"Just finished 'Ninepins' by Rosy Thornton really liked it. Great landscapes. Can see it as a tense ITV thriller." – Kate Long

"I am a big Thornton fan and have read everything she's written… Ninepins is the kind of novel in which you can lose yourself. That's a quality that some books have and others (even very good others) do not… Thornton's particular talent is the way she brings every single character to life. She is careful about domestic detail and wonderful at the pang-filled relationship between Laura and her daughter… This book will resonate with every mother of a young daughter… There is sadness for readers on the way to an ending which is really satisfying… Thornton's eye for landscape and nature and her deep love for the Fens comes across brilliantly. You can practically feel the squelchy mud under your feet as you read at times. This is a really enjoyable book and one you should seek out. It's written in Thornton's characteristically economical and elegant style. Nothing's over the top but the emotions are tactfully expressed, and both place and people are brought to vivid life by this underrated writer who deserves a wider readership." – Adèle Geras

"Set beside a dark steep-sided almost threatening Fenland lode or waterway, this novel is in turn more serious than Rosy Thornton's previous books, but even more enjoyable… I read far into the night… While not exactly a thriller, not exactly a romance, it explores problems that affect many of us – when to let go." – Susie Vereker

"A mature and impressive novel about motherhood, isolation and anxiety. Set against the brooding and unforgiving landscape of the fens with its huge skies, dykes, rivers and marshes, it mirrors Laura's anxiety that danger is lurking around the corner and if she's not careful to control it it will all unravel.… Danger is never far away in this elemental landscape. This is a novel of Earth, Air, Fire and Water." – Sally Zigmond

"Tense, engaging and atmospheric – I read the book in two sittings, deeply resentful of the fact that I had to put it down in between… Thornton is very good with female characters. I understood Laura – I've been a single parent myself – and she captures the difficulties and uncertainties perfectly, but the star of the book is Beth. She's still a child, despite being quite big, but she's wanting independence and to do things which strike terror into her mother's heart. All her life she's been trustworthy and responsible, but she's on the cusp of going wrong – unless Laura can play it absolutely right. Thornton balances this perfectly. There's lots to discuss in the book – it would be great for a reading group." – The Bookbag

"from the very start of the book, the reader is on pins waiting for something awful to happen… This book explores the modern family and its different forms: Laura's cosy mother and daughter set-up, her ex-husband's chaotic household full of wild little boys and the insecure life Willow led with her mother. The feeling of threat comes from the landscape itself as well as from the outsider. There is a dénouement but no spoilers here. Rosy Thornton is so good at evoking place and atmosphere. When I read The Tapestry of Love, I felt I was living in France. Reading Ninepins I could almost feel the cold damp of the fens creeping into my bones. Highly recommended for a tense read." – Life Must Be Filled Up

"Threats mass like thunderheads on the wide, low, Cambridgeshire skyline in Rosy Thornton's fourth novel, a story of domestic tension marbled with unsettling psychological undercurrents… This is a setting with many moods and Thornton does a good job of matching them to the quicksilver temperament of 12-year-old Beth, the introverted lodger and Laura's own unease about single parenting and starting a new relationship…. A distractingly readable novel which tidily captures the edgy see-saw drama of everyday life." – Book Oxygen

"This is a lovely read… It's character driven and the characters are extremely well drawn and realistic. There is a subtle tension which runs through it… an air of suspense which builds throughout the unfolding story and the wonderful bleak, misty and menacing setting of the Cambridgeshire Fens, is so well painted that I felt I'd just spent some time there despite never having set foot in that area in my life! …Rosy Thornton is a highly accomplished author, drawing on her own experiences and her skills with words to create an environment we instantly feel at home in and characters we feel we know even though they might not be ones we can completely relate to. If you enjoy beautifully constructed descriptions, characters created with finesse and skill and a story which builds to a satisfactory climax you should enjoy this latest offering from Rosy." – Beadyjan's Bookshelf

"There are very few authors I've read that can write a compelling, reality-based account of life as well as Rosy Thornton. I'm happy to say that Ninepins, her newest effort, not only met my expectations produced by her previous works, but far, far exceeded them… Ms. Thornton has written a gem of a story. On its surface, Ninepins is as calm as the water surrounding the actual house, but like the fens and the water running in the lode, it doesn't take much to stir up the bottom and turn the story into a floodwater of emotion, passion and substance. Ninepins is a must-read for any contemporary fiction fan. It is every day life but better; richer somehow owing to the author's wonderfully descriptive writing skills. These are life sized characters with life sized stories that somehow become larger than life. They will stay with you long past the turning of the last page. Rosy Thornton makes them entirely believable and truly unforgettable." – Bookishly Attentive

"very enjoyable – and… thought provoking. Set in the Cambridge Fens, it revolves around problems of family life and relationships between mothers and daughters, exploring the difficulties of when and how to give a child more independence, and looking at the way people deal with love, friendship, trust and betrayals. …the story is not driven by issues, but by people, and Thornton creates her characters with warmth and a light touch. She is excellent at showing relationships and describing the small details of everyday life, so you really care what happens. And her sense of place is as strong as ever – in Tapestry she made me feel as if I was in France. Here she make me sense the vast emptiness of the lonely, water-logged Cambridgeshire Fens." – The Book Trunk

"Ninepins is a darker novel than the others I've read by Rosy, and one that sustains an atmosphere of impending menace as issues of maternal anxiety are put through the wringer… As ever, Rosy Thornton provides a gripping story that contains all sorts of interesting and provocative depths. This is a beautifully written portrait of a mother trying to deal with all the fears – genuine and groundless – that we currently create around our vulnerable children, who seem to grow up too fast and too slowly in our mixed-up world." – Tales From the Reading Room

"Rosy Thornton is expert at creating a real sense of place with her words, the vast and desolate, yet beautiful Fens of Cambridgeshire are brought to life in this story, the reader can almost feel the chill and the damp air when reading her description of the landscape. Descriptive scenery however, are not her only gift; her creation of three very different, yet extremely strong female characters is excellent… Rosy Thornton has served up a novel with many themes. I enjoyed Ninepins very much…" – Random Things Through My Letterbox

"I couldn't stop reading once I started. The characters feel real, and I wanted to know what happened to them. Ninepins… left me feeling hopeful and content… Thumbs up, to Rosy Thornton's Ninepins." – Norma's Novels

"…a remarkable book about mothers and daughters, about growing up and relationships. It's quite difficult to describe – it's not exactly a thriller, although there is a mystery element to it and the tension and suspense gradually build throughout the book. And it's not exactly a romance, although there is a love story in there too. It's about people, but there is a satisfying plot and beautiful descriptions of the locations… It captures perfectly the precarious relationships between parents and children as they begin to grow up and feel independent… A gripping story that held my interest throughout." – Books Please

"It's been very clear, I think, from Rosy Thornton's last two books that, if she decided to tackle something a little darker, she would be more than capable. Ninepins confirms it – this is decidedly not a book to pick up when you've only got an hour to spare. You'll be turning the pages hours into the night, desperate to know what will happen next… Thornton weaves three elements – fire, water and breath – through her compelling story… This is a book to savour, and to return to." – Geranium Cat's Bookshelf

"The book deals with some powerful issues and the author does it very well… I was entranced by the characters in the book and did enjoy it a lot." – Our Book Reviews Online

"Thornton portrays the delicate, changeable dynamic between her characters with a light but sure touch… Thornton's writing is never 'easy reading,' in the sense that it always tackles messy personal and political issues… Ninepins…is… an emotionally demanding read. However, it is also well-written and tightly constructed, which maintains the narrative tension and makes it a compelling read as well as a demanding one. I recommend Ninepins unreservedly…" – Vulpes Libris

"I've loved Thornton's other novels, and this story of a mother and daughter living deep in the Cambridgeshire fens fits right in with her other books. Once again she gracefully explores the family dynamic and the relationship between modern women and those they love." – Bookstack

"I only feel that strongly about characters that seem completely real to me, and my reaction to Laura is a testament to Thornton's ability to write authentic stories about flesh and blood people. Laura is someone I could imagine meeting on the street… This was a hard book to put down, not only for the suspense, but because it also includes the beautiful descriptions of setting and the rhythms of daily life that I have come to love in this author's work." – Books and Movies

"I loved all the relationships in the story especially that between Laura and her asthmatic teenage daughter Beth, her gradual understanding and acceptance of Willow and her growing friendship with the likeable social worker Vince as well as her involvement with Beth's father and his new family. Most of all I loved the author's vivid descriptions of the fens. The frozen winter fens, the overflowing dykes and waterways and as springtime approaches and winter departs a glorious description of the swallows returning to the lode in springtime… I really enjoyed reading 'Ninepins' and found that I couldn't put the book down and didn't want it to end. " – Corners of My Mind

"Rosy Thornton has a way of writing that I can only describe as gentle. When you open one of her books, she takes you by the hand and leads you through her story in a way that makes it almost impossible to put the book down. She has a lot to say here about family, and what that word means. Inside of that there is a lot about the relationship between mothers and daughters, and the expectations within. There are many tightropes being walked and eggshells walked upon as these three women figure out how to navigate their new lives."– Confessions of a Bibliophile.

"This could not be more different in style and character than Tapestry of Love and yet I enjoyed it just as much… There is a lurking feeling of tension hovering throughout the book, the feeling that any moment something could happen and, of course, it does. But there is a twist at the end… I do like Rosy Thornton's writing, the narrative flows beautifully and each book seems to have a different slant so the reader does not know what to expect." – Random Jottings

"Rosy Thornton has established herself as a writer who's always worth reading… Thornton generates a pervasive atmosphere of unease which is augmented by the superbly evocative portrait of the physical and emotional isolation of a remote house in a bleak, grey winter. The tension which seeps through the bulk of the novel is immaculately orchestrated… Every protagonist is treated with generosity and allowed to be properly rounded and never reduced to a stereotype; this has the… effect of keeping the action constantly surprising and never falling into the predictable plotlines which sometimes seem to be lurking around the corner. Some of the most moving sections of Ninepins are those parts which seem slightly at a remove from the principal thrust of the story: Beth's transition from child to teenager and the resulting painful changes wrought on her relationship with her mother, and single mother Laura's efforts to reach an emotional accommodation with her ex-husband's new family. It's here that Thornton's firm grasp of human drama is most obviously present, and ideas about mothers and daughters, and the nature of responsibilities moral and legal, are fascinatingly explored." – For Books' Sake

"Ninepins is an absorbing book. I love books set in remote, wintry landscapes and the atmosphere of the fens and the river is beautifully evoked. The house itself is a character in the plot, a brooding presence in the landscape. The heart of the book, though, is the relationship between Laura and Beth." – I Prefer Reading

"The mark of good writing – the reader begins to really care about the characters, as if they were real and as if they know them personally. With good descriptions of place, people, personalities, and social situations, I found the book very engaging and almost didn't want it to end… An excellent book that I highly recommend." – Book Dilettante

"a brooding novel set in the Cambridgeshire Fens, where landscape and action are inexorably linked. I picked it up when I was struggling to get through another novel, and was immediately swept up…. I have spent time in the Fens, and Rosy renders them beautifully." – Charlotte's Web

"Rosy handles both her characters and her native Cambridgeshire with skill and empathy. As in her other novels, the story line takes unexpected turns. I found it difficult to put the book down when it was time to take a break…" – Don't Stop the World

"The author's prose was beautiful, describing the world in which the characters lived, as well as their interactions. The dialogue very typically exemplified the difficulties of the single-parent family, and how adding or subtracting elements from the mix can cause irrevocable shifts. The environment and its unpredictable floods seemed metaphorical for the shifting family dynamics. Five stars for this story that brought up all the emotions I have experienced as a single parent, unsure of the effects of others upon my children, and powerless to change what is happening in the world outside the home." – Rainy Days and Mondays

"This is the second book I have read of the author and I have realized that characters and landscape play a very important role in her novels… The beauty of her novels… lies in the well sketched and entirely believable characters… All the emotions are heightened by the intricate details of the landscape the story is set in. Above all the author is very meticulous about the treatment of all the relationships portrayed in the story… But the best part is that the narration is entirely non judgmental. It doesn't judge things and situations as right or wrong, but shows how life takes unexpected turns much to our discomfort. There is even an element of suspense and mystery that makes it an even more compelling and enjoyable read. In a nutshell, Rosy Thornton's latest novel, Ninepins explores the dynamics of relationship between a mother and a teenage daughter, complicated by the arrival of a stranger with a troubled past… A very good read… Highly recommended." – BookReviews

"Ninepins is heavily focussed on character exploration… I particularly liked the troubled adolescent, Willow. Thornton skilfully revealed her additional layers throughout the story, transforming her from what could easily have been a one-dimensional character device to one with substance and maturity… Thornton takes great care in describing the sights and sounds of the setting for this novel and its interplay with the characters' lives. The prose was free-flowing and very accessible." – Booklover Book Reviews

"I've been hopelessly devoted to Rosy Thornton since reading her debut novel, More than Love Letters, which I've forced into the hands of friends… Ninepins has everything I've come to expect from Thornton's writing – a lovely precision of language, an eye for detail that borders on genius, and a powerful intelligence that permeates the entire work. As a bonus, her themes are close to my heart; this novel's deeply-felt look at motherhood's conflicting imperatives to protect and to set free spoke to me in a very fundamental way… There's some brilliant writing about motherhood in this novel… Thornton… refuses to resort to the easy explanation, she's able to tease out and articulate the shapes of our feelings, and she finds perfect analogies to explain our feelings to ourselves. The book abounds with such passages; you have to read it slow, and then read again. Thornton also crafts a mean plot, and Ninepins is wound tight with tension… Buy her novels! Suggest this one to your book club!" – Brown Paper

"…the writer's usual wonderful style is clear from the start. Thornton's love of the Cambridge fens shines out from every page; her descriptions of the landscape around the house are beautiful, and created the most wonderful imagery in my mind. Although dark in places, 'Ninepins' is essentially a gentle drama… Thornton encapsulates the trauma of being a child on the verge of teenagerdom so well, without ever resorting to teenage caricature… it's just so honest! …Rosy Thornton writes very fine fiction indeed and 'Ninepins' is sure to delight new readers as well as her current numerous faithful followers. Thornton's characterisation is absolutely top notch and creates a tale that both captivated and enthralled. I heartily recommend." – Bookworm Ink

"As in other novels, Ms. Thornton skillfully manages to create a complete world in a few powerful sentences. Each sentence in Ninepins is masterfully constructed to establish a painstaking attention to detail that allows the reader to create vivid mental images with a minimal amount of words… Ninepins is the type of novel that draws a reader into a scene and makes them feel like they are a direct player in it… They can smell the pasta boiling, feel the dampness of the water-soaked earth, hear the chirping of the birds… Ninepins is exactly what readers have come to expect from Ms. Thornton. As always, her prose is absolutely beautiful, with its poetic and lush descriptions and piercing dialogue that drives to the heart of her characters. She embraces the flaws in each of her characters, making them all the more realistic… The result is a gorgeous exploration of relationships and their ever-changing nature." – That's What She Read

"This book is an interesting exploration of a difficult relationship between mother and daughter… I felt it gave me real insight into a parent's worries as their child begins to demand more freedom… Thornton writes vividly, in a wonderful descriptive style that evoked a powerful sense of place while I was reading. I fled through this book in just a few days, and the story is well-paced, well structured, with interesting, thoroughly believable characters. If you enjoy books about the subtleties of human relationships, this is one for you." – One Day Perhaps I'll Know

"The sense of place is vivid in Rosy Thornton's new novel Ninepins… the damp atmosphere of the fens and the remoteness of Ninepins come straight off the page. The dislocated setting provides a fitting background and mirror to the story… The whole book moves along nicely, all adding up to an engaging read."– Follow the Thread

"Rosy takes us on the beautifully descriptive ride through the Cambridgeshire Fens. What I love about her books is that they are so easy to read yet so descriptive; you could almost be sitting there looking down over Laura's house and life… It's a book that looks closely at relationships and emotions. …I thoroughly enjoyed the book and was disappointed when it finished." – Best Books To Read

"Thornton has a wonderful way of making you care deeply about the characters. They quickly begin to feel like people that you could know and that you care about… All of the issues that the characters deal with are very realistic and you can connect with them on some level. I loved this story. At its base, it's really a story about love and relationships. Thornton draws you in, makes you love the characters, and then leads you through the story with her fantastic writing. …Thornton's writing is… understated but beautiful." – A Bookish Affair

"Ninepins is a wonderful read… which… examines family life and the uncertainty and confusion faced by a mother as she has to learn to let go of the reins a little and let her beloved daughter find her own way in the world… As always Rosy has come up with the goods and I can highly recommend Ninepins as a great summer read." – Blue Archipelago Reviews

"Thornton is a gorgeous writer and in Ninepins she offers a compelling situation that reads like a thriller. …you can't imagine…how hard it is to put this book down! It may seem like a quiet character study but the emotional drama is just riveting. And while it's not exactly a mystery or a thriller, the atmosphere and mood maintained a wonderful level of suspense and tension. Thornton… really deserves a wider audience." – Reading is my Superpower

"This is the second book that I've read by Rosy Thornton and I am a fan. Her writing is beautiful and compelling. While Ninepins is a bit darker than The Tapestry of Love, I was caught up in the tale right away and had a hard time putting the book down… At its simplest, this is a book about three women that end up living together. They all have to adapt their attitudes and learn to make adjustments to accommodate the needs of the others. Without giving away anything, there are certain events that occur that cause the tension to be really high at times and this is what gives the book that thriller-like feeling. Now having read two of Rosy Thornton's books and liking how different they were from each other, I will definitely be checking out her other books." – Always With a Book

"I was imagining something vaguely chick-litty, although maybe more sophisticated. I was wrong. Ninepins wasn't hard to read, but it was far from chick-lit like too. Actually it kind of reminded me of Kate Morton. There was the same kind of atmosphere built using the surroundings (a little gothic at times in fact, which I always like in a novel). There was also the family issue centre and hints of a big secret… I thought that the way Thornton was able to make you feel about the characters…was clever… I did really enjoy it. 4.5/5 stars." – Lucybird's Book Blog

"I love Rosy Thornton's work so I've been looking forward to reviewing this one ever since it arrived. I'm very pleased to say that I wasn't disappointed… Setting this story in the fens was an inspired decision. As well as the depths of emotion explored between the different characters in the novel, there is a stunning interplay of atmospheric themes that could only have arisen from that location. If you've ever been to the Cambridgeshire fens, you will recognise them from these expert depictions, and if you haven't you'll feel as though you have… 'Ninepins' has a slightly different feel from Rosy Thornton's previous works and I think it is the air of tension and menace hovering over this story which makes it feel like a bit of a departure. All round, a fabulous read which kept me reading late at night long after I should have been asleep." – Bookersatz

"Rosy Thornton gives her most recent novel Ninepins an interesting setting that could almost be considered one of the main characters. The changing atmosphere of the fens fascinated me! Ninepins is a quiet yet compelling novel… a thoughtful and realistic drama that touches on single parents, step-families, social welfare issues and more – book groups would find several topics for discussion. I enjoyed Ninepins and look forward to Rosy Thornton's next book." – Bookfan

"In The Tapestry of Love she brought the countryside of the French Cévennes alive on the printed page and this time she does it again with the very contrasting countryside of the Cambridgeshire Fens. Along with the strong sense of place Rosy Thornton also writes about characters that one feels are realistically portrayed… A novel about mother daughter relationships and how we have to adapt to change within these relationships." – LindyLouMac's Book Reviews

"Rosy Thornton is a skilful portrayer of family dynamics.' – Rhapsody in Books

"Another great book by Thornton. I have enjoyed every book I have read by the author. Her characters are so well developed – likable and real and so easy to identify with. Ninepins is different than her previous books, a little more serious, a bit of a thriller but with the same heart." – MariReads

"I loved this novel. I liked the immediacy with which we were drawn straight into the story and the setting. I felt I was immersed in the wildlife and landscape of the Cambridgeshire fens, very nearby to where I live; they are vividly brought to life as the backdrop of this story; the author illustrates both the beauty and the dangers of the place. I found the characters intriguing and believable, and the dialogue equally convincing and apt. I felt that Rosy Thornton portrayed the love, the difficulties and confrontations between Laura and Beth very realistically, and depicted the strong, yet at times fraught, relationships between mothers and daughters very successfully… It's an absorbing story that I enjoyed returning to every time I picked the book up again… This is the first novel I have read by this author, and it has certainly encouraged me to want to go back and dip into her earlier works. This is assured storytelling and a satisfying read. " – The Little Reader Library

"As a fan of Rosy Thornton's novel The Tapestry of Love I was delighted to read Ninepins, which is in the same style of storytelling. The setting, in this case the very rural landscape of The Fens in Cambridgeshire, is as much a part of the story as the characters… I loved this novel… 10 out of 10 for me!" – Dizzy C's Little Book Blog